Is Zara winning the tonal check trend this season?
Every year there is a war on the high street to which brand will emulate the best version of this years trends. There are always staple nonnegotiable pieces, timeless shall we say and then there are the more movable fast fashion trends. Check is a pattern through the decades that is repeated year on year so finding a few pieces that you can renew in a couple years is a way I attempt to justify and reuse clothing. I am slightly tired of the same comments and rehashes of what or where to go. I do not need to tell you because if you look hard enough check is everywhere. But I can reveal the brand that I believe is offering something different for the ye olde check.
Zara isn't the cheapest brand on the high street and many have qualms over whether many of the items are worth the price. But I would recommend quite few of their checked items this season. analysing their other competitors this autumn/ fall many of the checked items are enthused and lack vibrancy in any capacity. I really love this particular dress from Zara as it mimic's a pricey brand with a cheaper price tag. The dress material is heavier than usual and the sizing seems reasonably accurate. It provides a versatility with the pinafore style to intertwine with many different styles dependent on what blouse/ jumper you wear underneath or on top.
Analysing their competitors Topshop, boohoo and Mango I can see some duplication. The three main players have all run with the black and white check which I'm quite frankly bored of at this point. I think it was a excellent decision to go back to the preppy lecturer tweed style dress. Topshop have a pinafore for around £55 at the moment linked below - which although the colours are more tonal. The fabric is thinner and the bib pinafore has been exhausted from 2017 & 2016 styles. Boohoo is concentrating on bodycon and tea dresses in the tonal check print, I like a few but the versatility of the products of their stock would be more suited to spring/ summer months. Mango is looking great on the tonal scarf front, in fact I would really recommend you check out a few. They have some lovely prints right now at about £20 a scarf.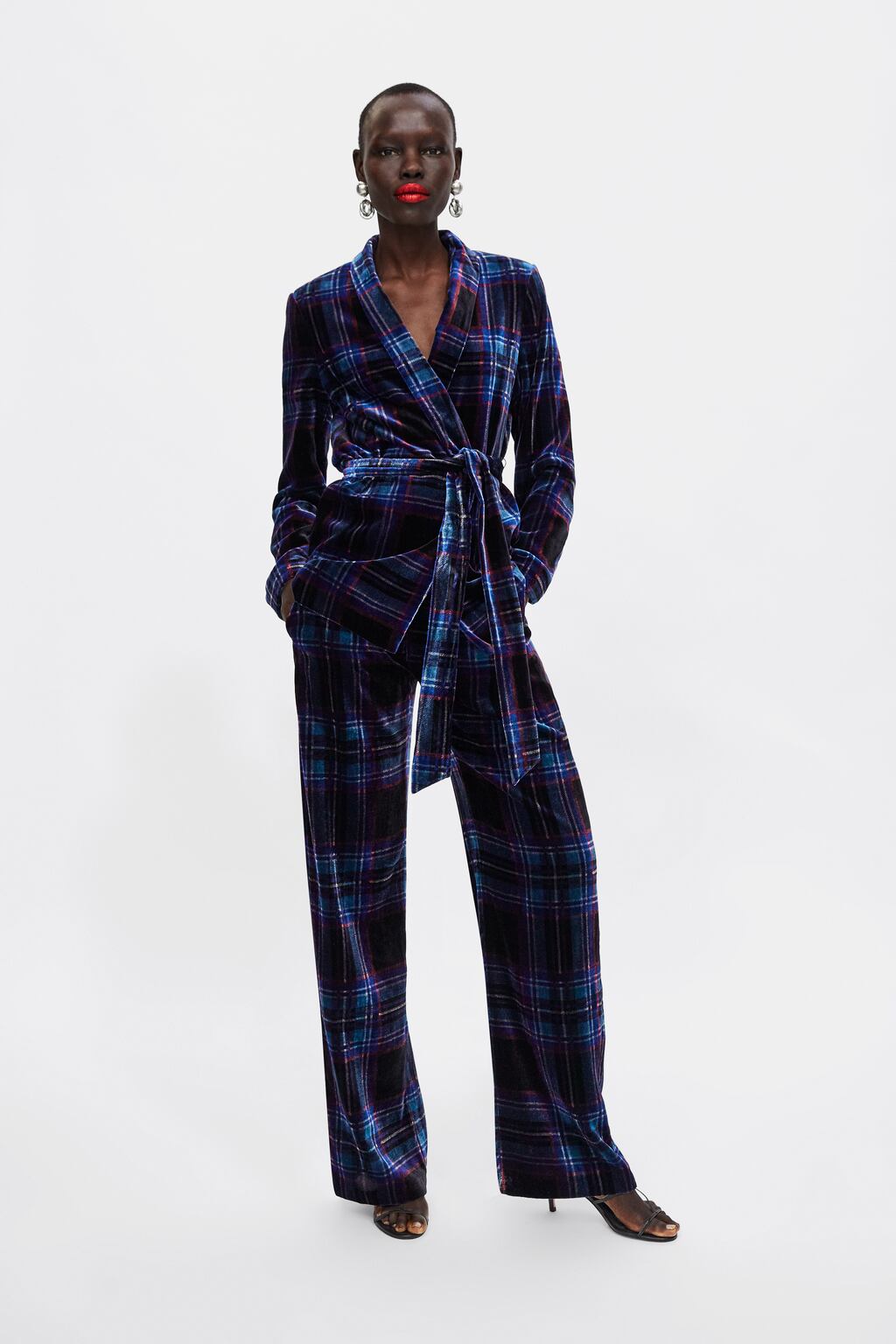 These are my three favourite Zara pieces currently in check
I think the retro check is another trend that they're accomplishing well, the jumpsuits and braces are an alternative.The shift dress pinafore is a lovely comeback that I have missed from 2015, and the velvet check is a perfect introductory material and pattern for the Christmas party season.
Checked dresses on the market at every budget
Click the image to shop the item